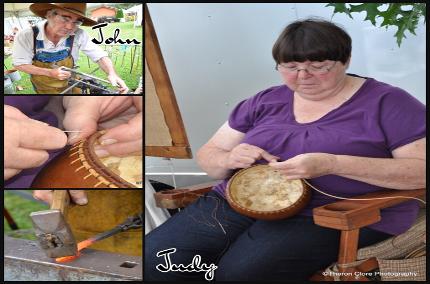 Judy has always loved working with her hands to produce unique creations. She says,
"Gourds offer a limitless canvas to express my artistic creativity."
Her current gourd art projects include pyrography, painting, cut-work, coiling, and basketry on the gourds. Judy's specialty is coiling with waxed linen thread to create functional and decorative pieces. The gourd art pieces are often combined with the hand-forged iron bases created by her husband and son.
Judy has been teaching closed coiling for about 11 years, often with her daughter, Jody. They have taught classes at The Gourd Gathering in Cherokee, NC for 10 years. Upon request, she teaches classes in her home and to interested groups. Judy will be teaching at John C. Campbell Folk School in Brasstown, NC in February 2017. She is always amazed and thrilled by the variations in the projects and creativity of the students.
Judy's work can be seen in
Weaving on Gourds
by Marianne Barnes. Several of her tutorials have been published in the
Journal of Tutorials
printed each year for The Gourd Gathering.
Judy attended Ringling School of Art in Sarasota, Florida and has a B.A. degree in Art Education from the University of South Florida. She is a member of the American Gourd Society.